This website has been developed so you can familiarise yourself with this unique and utilitarian all-Australian product, its options and its accessories.
The Biji-Barbi is an Aussie invention. It is a dished BBQ plate that has three fold up legs and a practical, long, fold-up handle. Derived from the Australian plough disc/shear, the Biji-Barbi is ideal for gas burner or open fire cooking.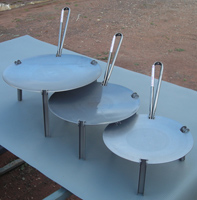 Simply unpack your Biji-Barbi, snap the handle and legs in place and cook up a great meal in the bush, on your deck or at the park. Just be sure you hear the 'click' when snapping the legs and handle in place to avoid having your Biji-Barbi tip over.
The Biji-Barbi can be used on either a normal wood fire or by placing a suitable gas burner beneath it. It is easily cleaned and stored and is ideal for meat, eggs, fish or vegetables, making it an ideal gift for the 4WD owner or camper.
The covers are canvas, in either grey or green, and are available in large, medium and small. The Flip-Grips eliminate the need for muliple cooking utensils and are designed to 'rest' on the flip handle securely preventing them from falling on the ground or in the fire. See all products!
---
---
Testimonial
"My Biji-Barbi goes everywhere I go. Whether I am on a spur of the moment picnic or a long holiday in the outback, my Biji-Barbi is always ready to be used. The convenience of using a gas burner means I don't have to forego a great barbi on days when fires are not permitted. Thank you, Biji-Barbi, for the best money I have ever spent!"
G. S. Queensland

'COME AND SAY G'DAY!'
Sunshine Coast Caravan and Outdoor Expo
30th August – 1st September 2019
Nambour Showgrounds, Site # 280
Cnr Coronation Ave & Bli Bli Rd, Nambour
Sydney 4WD & Adventure Show
6th – 8th September 2019
Western Sydney International Dragway, Site # M17
Eastern Creek
Sydney Caravan Camping Lifestyle Expo
20th – 22nd September 2019
Sydney Showground, Site # 336
Sydney Olympic Park
Melbourne Leisurefest
3rd – 6th October 2019
Sandown Racecourse, Site # 179
Springvale
Adelaide 4wd Show
25th – 27th October 2019
Wayville Showgrounds (AECC), Site # JB11
Wayville, SA

A. R. Upton
106-108 Cowper Street
(P.O.Box 110)
Hillston. 2675
N.S.W. Australia.
Phone/Fax: (02) 6967 2417
E-mail: