This website has been developed so you can familiarise yourself with this unique and utilitarian all-Australian product, its options and its accessories.
The Biji-Barbi is an Aussie invention. It is a dished BBQ plate that has three fold up legs and a practical, long, fold-up handle. Derived from the Australian plough disc/shear, the Biji-Barbi is ideal for gas burner or open fire cooking.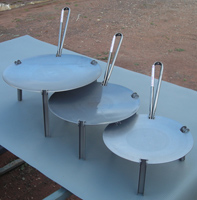 Simply unpack your Biji-Barbi, snap the handle and legs in place and cook up a great meal in the bush, on your deck or at the park. Just be sure you hear the 'click' when snapping the legs and handle in place to avoid having your Biji-Barbi tip over.
The Biji-Barbi can be used on either a normal wood fire or by placing a suitable gas burner beneath it. It is easily cleaned and stored and is ideal for meat, eggs, fish or vegetables, making it an ideal gift for the 4WD owner or camper.
The covers are canvas, in either grey or green, and are available in large, medium and small. The Flip-Grips eliminate the need for muliple cooking utensils and are designed to 'rest' on the flip handle securely preventing them from falling on the ground or in the fire. See all products!
The 'Pop-up' Tool Caddy
We are proud to announce the arrival of the long awaited supply of our 'Pop Up' Tool Caddy for our valued customers.
The 'Pop-up' Tool Caddy comes in a small poly bag with install instructions on the back of the header card. The design was created to fit all handles of current Biji-Barbi's.
The 'Pop-up' Tool Caddy is suitable for all current sizes of FlipGrips as well as many other food tongs of similar design. There is no need to remove the caddy after each use. Just 'pop' it down in the Biji-Barbi handle and it is there for the very next use.
Tony has put together a short video on how to install the 'Pop-up' Tool Caddy.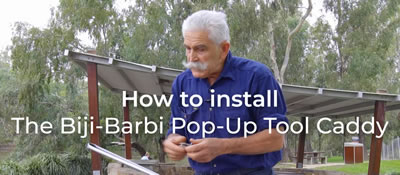 ---
Testimonial
"My Biji-Barbi goes everywhere I go. Whether I am on a spur of the moment picnic or a long holiday in the outback, my Biji-Barbi is always ready to be used. The convenience of using a gas burner means I don't have to forego a great barbi on days when fires are not permitted. Thank you, Biji-Barbi, for the best money I have ever spent!"
G. S. Queensland

'COME AND SAY G'DAY!'
Please check back soon to see when the next show location is confirmed.

We look forward to seeing you there!

A. R. Upton
106-108 Cowper Street
(P.O.Box 110)
Hillston. 2675
N.S.W. Australia.
Phone/Fax: 0427 672 417
E-mail:
The Website Specials are ONLY available with payment through PayPal or Direct Deposit. Thank you.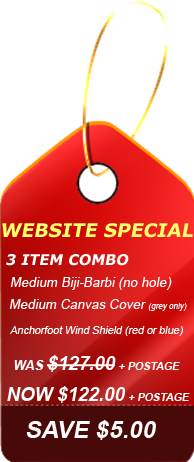 Order the Combo Special with PayPal below.
Order the Combo by Direct Deposit here.
---
WEBSITE SPECIAL: Anchorfoot Windshields w/bags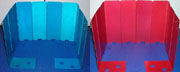 Available in packs (with bags) at the following prices:
Single pack (1 for $25.00)
Double pack (2 for $45.00)
Triple pack (3 for $60.00)
You choose the colour (Red or Blue)
Order with PayPal here.
Order by Direct Deposit here.